hilton head attractions, activities & amenities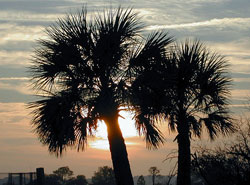 We are your guide to Hilton Head Attractions! Preview theme parks, beaches, museums, wildlife areas, tours, and more.
Besides swimming, sunbathing, golfing, shopping, dining, playing tennis and touring art galleries, there are many other great activities to enjoy on your visit to Hilton Head Island. Bring along a bike or rent one. Take your time as you ride along the paved bike paths, explore the island and enjoy the natural beauty. You can also rent sailboats or take a guided nature-kayaking excursion of the unique barrier island. No matter how you spend your time, a vacation with Hilton Head and its attractions will prove to be a very unforgettable vacation experience
ready for parasailing?
Imagine harnessing into a parachute and skiing off into the sky high above the boat and beach. You can fly high in the air with a parachute towed by a speed boat. The experienced guides will put you in a harness, standing on a platform at the rear of the boat, and gently lift you up into the air.
Hilton Head Parasailing